Things to do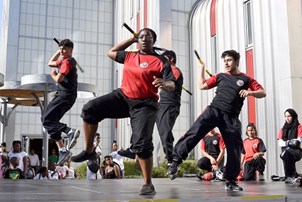 There are opportunities to get involved in a wide range of activities in Brent. Sports clubs and leisure centres, specialist activity groups, sailing clubs, cycling clubs, open spaces, uniformed groups, performance and theatre groups all offer stimulating challenges.
Group activities are really enjoyable and can develop team working and leadership skills. Employers and universities are interested in skills and achievements away from the classroom.
Search for details of the many voluntary organisations supporting young people, such as Prince's Trust
One-off events and opportunities for young people are regularly promoted on Slenky's Brent hub: https://slenky.me/hub/brent

Community events take place daily at The Yellow: https://www.wembleypark.com/theyellow
Ansar Youth Project is one of several community youth clubs in Brent offering free activities. Brent Youth Theatre is offering 3 online drama and screenwriting courses in response to the COVID-19 lockdown.