Campaigns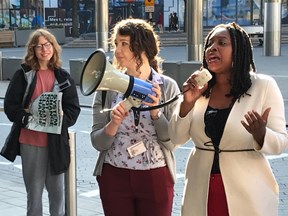 What is a campaign?
A civil society campaign is one that is intended to mobilize public support and use democratic tools such as lobbying in order to make social change. Civil society campaigns can seek local, national or international objectives. They can be run by dedicated single-issue groups, or by professional non-governmental organisations (NGOs) including charities, such as the World Wildlife Fund.
Effective campaigning can sometimes achieve much more than good works or giving to charity. In 2012 a lengthy campaign by Humanism UK persuaded the Scout Association and Girlguiding UK to announce that they would change their 'Promises' to enable non-religious young people and adult volunteers to join for the first time.
Local campaign example:
Brent Cyclists exist to campaign for better cycling conditions in Brent, and to help more people to cycle in Brent.
National campaign example:
Over 954,766 young people voted in the UK Youth Parliaments Make your Mark ballot, with 100,231 young people voting to make 'Votes for 16 and 17 year-olds in all public elections' one of their top five priority issues.
UK Youth Parliament
The UK Youth Parliament is currently running a national campaign to make PSHE teaching in schools follow a 'curriculum for life'
International campaign example:
'I am a Girl' -  Girls' rights are human rights. Read more at Plan International.
16 year old Greta Thunberg's climate protests have mobilised young people across the world in 2019. #GretaThunberg